WHAT IS PROFHILO?
Profhilo is the first revolutionary bio-remodelling "injectable skincare" made with patented NAHYCO® Hybrid Technology. This results in a unique hyaluronic acid injectable gel, which has a prolonged stimulating activity on the dermal cells. When injected into the skin, it stimulates the skin cell receptors to counteract skin laxity and restore firmness of the skin.
Profhilo not only boosts and hydrates the skin, but also remodels ageing and sagging tissue for both men and women. The most common areas of treatment include the face and neck and can also be used for the décolletage area where it would effectively treat skin laxity.
BENEFITS
Profhilo delivers great results as a treatment on its own or in combination with other aesthetic treatments. Profhilo can:
Bio-stimulate elastin, 4 types of collagen and hydration in the 3 main layers of the skin
Provide firming, tightening and lifting effect to the skin
Improve overall skin quality and hydration
Provide a fast and effective treatment with minimal pain and downtime
Provide tissue repair process, ideal for acne scarring
SUGGESTED TREATMENT PROTOCOL
If you are looking to get Profhilo injections, the recommended protocol is to start with 2 or 3 treatment sessions at an interval of 1 month apart. Thereafter, maintenance is recommended every 6 to 9 months.
IDENTIFYING THE REAL PROFHILO
The source of our Profhilo product is authentic and safe. All the products come with a Neoasia authenticity sticker and tamper-free serial number. You can scan the QR code on the box to verify it.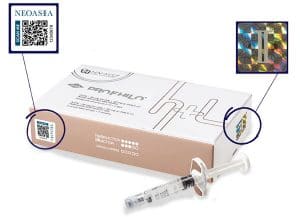 ARE NEEDLE-LESS PROFHILO EFFECTIVE?
"Needle-less Profhilo" treatment has been trending on social media. The two common ways of Needle-less treatment are through Transdermal Electroporation and Plasma Delivery. However, none of this method of administration is recognised by IBSA Derma, the manufacturer of Profhilo.
All claims and benefits of Profhilo Injectable are only achievable by injection. The safety and efficacy of the needle-less treatment are unknown.