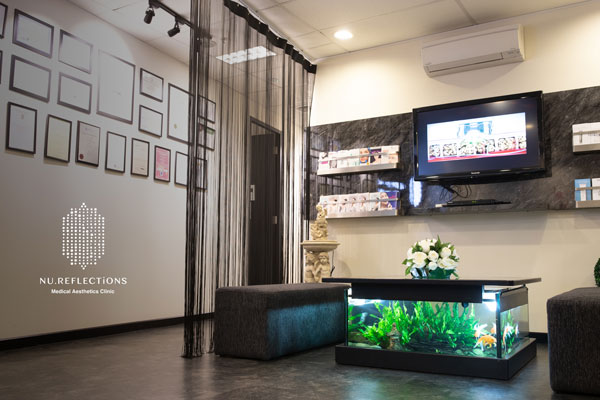 Nu.Reflections is a fully registered Medical Aesthetics clinic. It is dedicated to natural-looking beauty, achieved through minimally invasive skin and face solutions.
The clinic takes pride in combining medical science with seasoned artistry. Since opening doors in 2000, more than 10,000 patients have benefited from this signature approach to treatment, including over 20,000 successful Botox and Filler injections.
Nu. Reflections  is one of the earlier clinics with aesthetic therapies in Singapore such as the IPL (Intense Pulsed Light) and EnerJet systems. Services on offer are comprehensive. These include the gentle yet effective enchancement of facial features, and sagging skin. Treatments are FDA – approved, safe, comfortable, and result in minimal downtime – performed by an expert team using only the best quality equipment and facilities. Regardless of age or gender, patients step out with a more balanced, more harmonious overall appearance.
VISION
To be a household name and the preferred choice for aesthetic services in Singapore.
MISSION
To provide the best solution to meet our clients' need in a professional and caring way
OUR BELIEF
Beauty is in every individual and we can bring that out with subtle yet impactful refinements that appears natural.
OUR PROMISE
We place clients' interest above all else
Our Core Values
Noticeable – our treatments must give noticeable change to clients
Understanding – we try to understand clients' motivation for seeking treatments
Responsible – we are responsible for the outcome of our treatments
Efficient – we are cost efficient, giving clients most value for their money
Factual – we will give clients all the facts so they can make informed decision
Listen – we listen to our clients
Effective – we only recommend treatments that are effective
Caring – we must care for our clients
Trust – we must not betray the trust our clients have in us
Integrity – we carry ourselves with integrity
Option – we give clients different options to best suit them
Natural – we aim for an outcome that is natural-looking https://essayhelp-now.com
Sincere – we treat our clients with sincerity